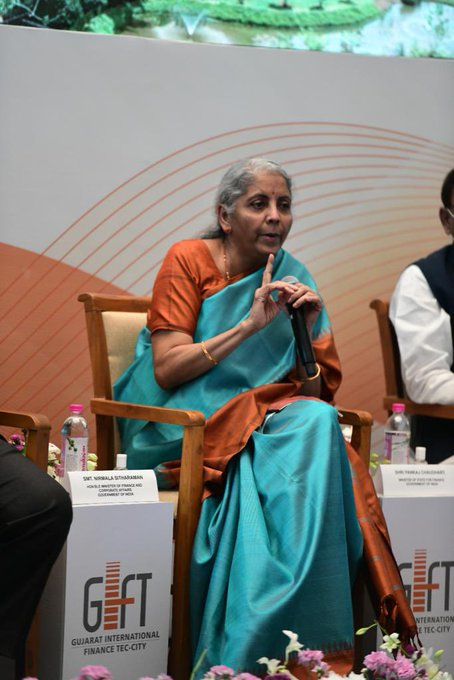 Greater coordination is required among regulatory authorities including those dealing with stock exchanges operating within the upcoming financial hub in Gandhinagar, said Union Finance minister Nirmala Sitharaman who was on a day long visit to GIFT City in Gujarat.
This visit was long overdue. I had wanted to come here with the secretaries well before the Covid-19 lockdown happened. However, I am glad to be here with all secretaries of finance. We had very useful interaction and the entire leadership of GIFT City and IFSC were with us all through the day, showing us the physical assets and telling us about the future plans. But in the process we realised that there are quite a few things on which greater coordination is required among the authorities dealing with the stock exchanges and also among the regulators. They are not major concerns, but it is possible to sit around a table and sort it out, Sitharaman told after finishing her meetings. She said SEBI, IRDA and RBI needs to talk about them selves, while the stock exchanges also needed interact with each other. The finance minister said the international bullion exchange which was expected to go live on October 1 was seeing small delays and will soon become operational.
I was glad to hear that the bullion exchange will soon come into play, for which all the necessary infrastructure inclusive of safe vaults are all ready and operational. So, the bullion exchange will be big game changer for India because as you in India we consume alot of gold and every gram of gold that we consume is imported. To have an exchange in India and to determine the price being one of the leading buyers in global gold market will be a big important milestone, she said.